Meeting All Design and Fabrication Challenges
At Arnold Machine, we have been providing our customers with full-service custom design and manufacturing for over 20 years. We fulfill virtually any customer specification, offering in-house design, machining, manufacturing, assembly, and delivery. Our clientele trusts us to meet their requirements and provide ongoing support after each project is completed. This is well illustrated in a recent project with a customer.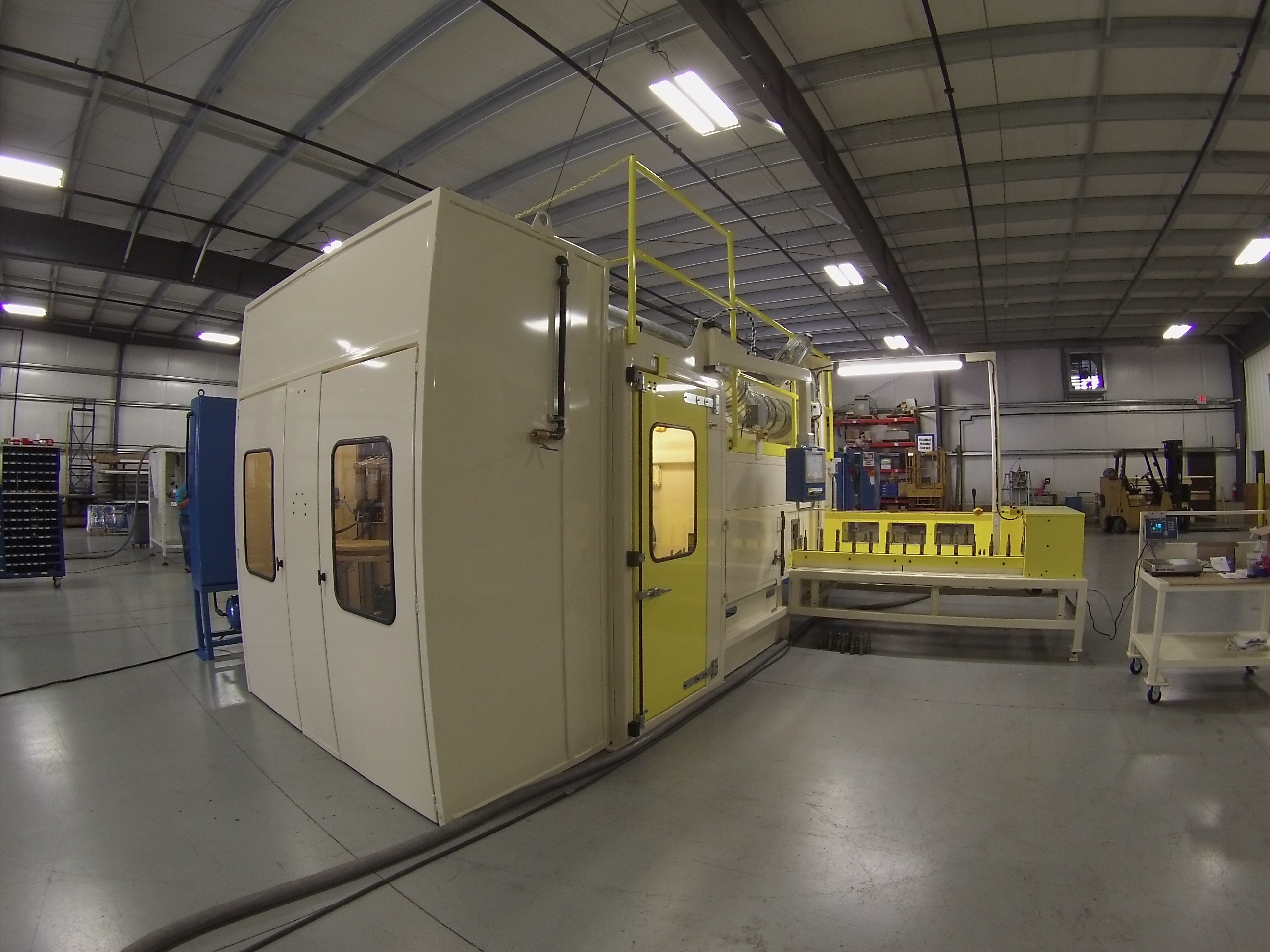 A Cutting Edge Request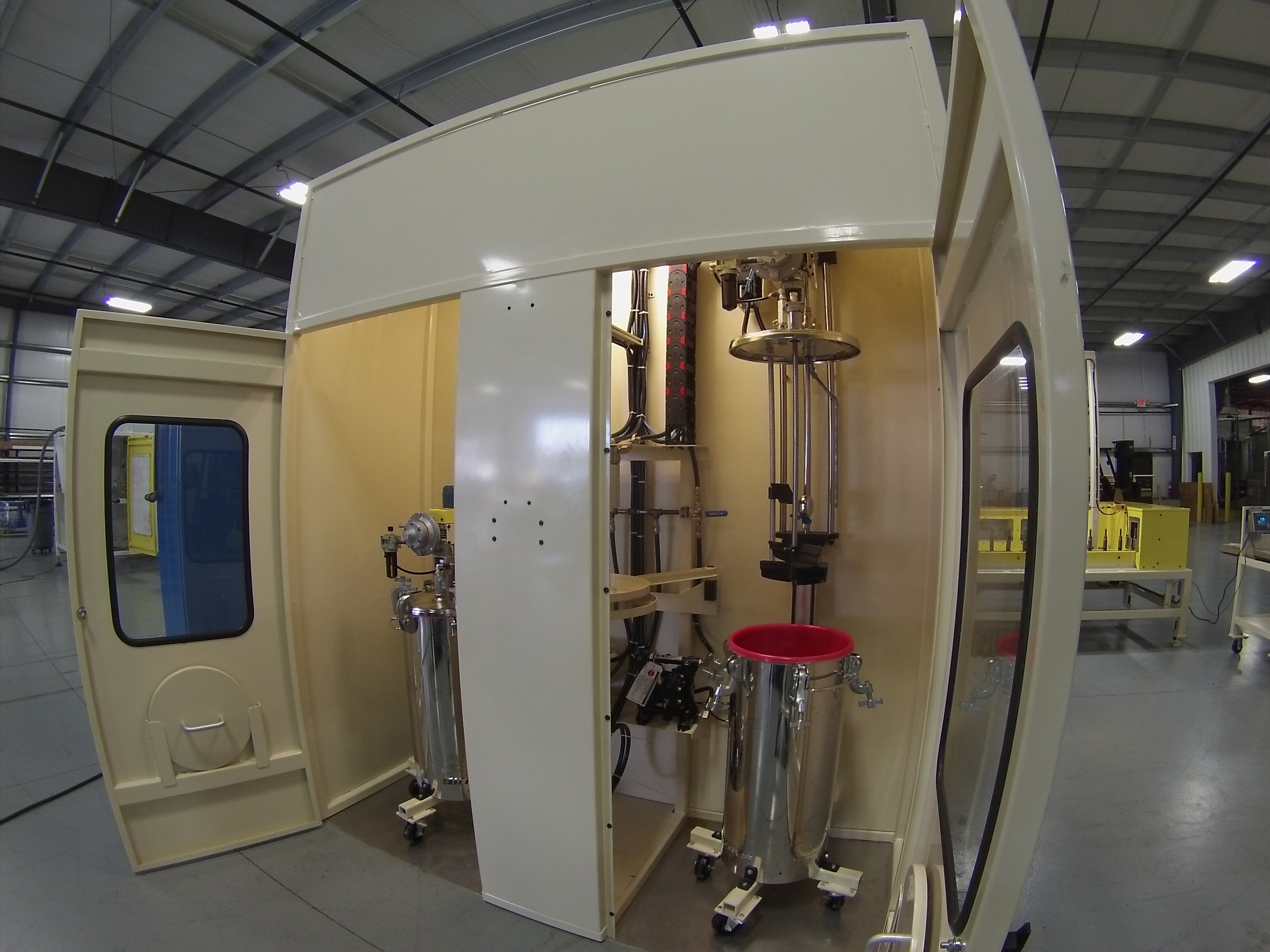 Our custom index spray machine capabilities garnered the attention of a customer who had a specialized coating machine request: the machine needed to apply a LORD two-coat primer and adhesive top coat finish to cylindrical parts in a rotate-and-spray application within a minimum cycle time. With our cutting edge equipment and leading expertise in this area, we were excited to accept the unique contract.
To address this challenging project, our engineers designed an advanced, continuous-motion Chain on Edge (COE) system. To go beyond the boundaries of previously manufactured spray machines, the specialized COE system required changes to the machine's drive system, as well as changes to the chain support structure's rigidity. Additional modifications included improved wear characteristics for maximum accuracy and increased air flow capabilities in the ovens; this helped to significantly increase dry times so that the machine could accommodate an abbreviated cycle.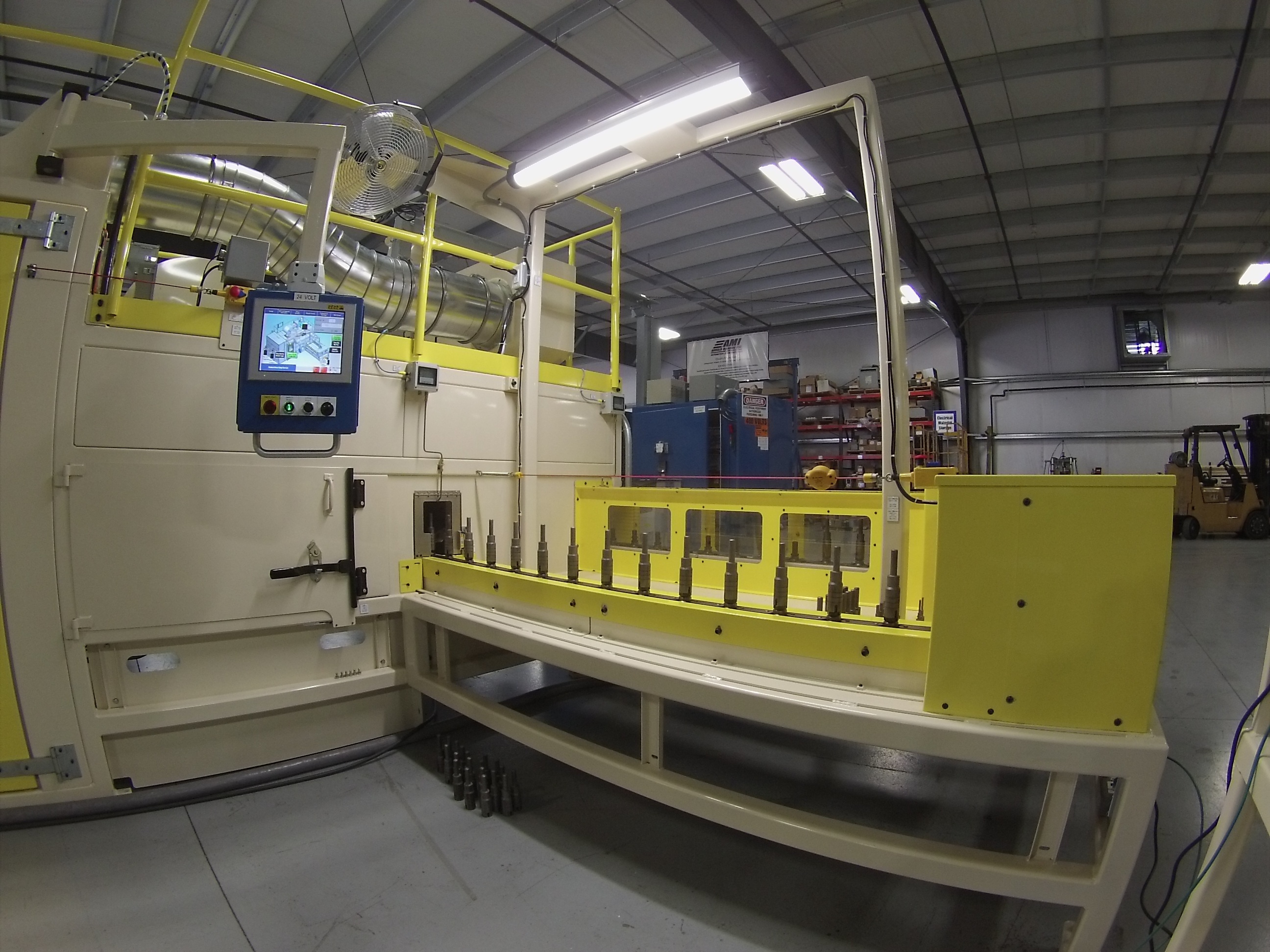 After these improvements had been made, the modified design was incorporated into the spray booth. Our standard spray machine design was easily able to handle such modifications, providing for simple, efficient spray gun adjustment and changeover, as well as quick booth wipe downs. The finalized coating machine was equipped with the following features:
Easy Operator Loading and Unloading — The spray machine system provided LED lighting and ample room for two operators, allowing them to keep pace with cycle times. Future design possibilities could also accommodate a robot arm intended to enhance loading and unloading capabilities.
Operator Controller — We provided an easy-to-use interface for efficient operator control, including the ability to change the recipes of the coatings and make changes in the spray processing parameters.
Material Storage — A vented and sealed cabinet within the coating machine contained all volatile organic compounds (VOCs) that could have potentially emitted from the use of solvent-based materials. A lift assist was also provided to easier pot removal.
Finishing Options — Our advanced coating machine provided all pieces with the option for a powder coat finish, satisfying our customer's requirements for different paint schemes and aesthetic requirements for the booth.
Excellence That Surpasses Expectations
When the coating machine was completed and delivered, our customer was very pleased with the results. We exceeded their requirements in every aspect, including quality, efficiency, and a highly user-friendly controller.
If you have specialized design needs or would like to learn more about this particular spray booth project, contact us directly today.